Mega Moolah The Witch's Moon
Here is another slot game in Aurum Studio and Microgaming's famous series of Mega Moolah: The Witch's Moon! It was released in September 2021.
The slot game will genuinely leave you enchanted. It is a 5-reel and 3-row slot game, part of the Mega Moolah series. That means that you'll also have 4 progressive jackpots consisting of Mega, Major, Minor, and Mini.
Winning the Mega jackpot can change your life for the better, making you rich beyond your comprehension. Other than these jackpots, there are several different ways to make gains. Why not give this article a read to find out more?
The Witch's Moon Mega Moolah Breakdown
| | | | |
| --- | --- | --- | --- |
| Release date: | 2021 | | |
| Theme: | Fantasy, Magic | | |
| Reels: | 5 | | |
| Rows: | 3 | | |
| Paylines: | 25 | | |
| Min. bet: | $0.25 | | |
| Max. bet: | $6.25 | | |
| RTP: | 88.12% | | |
| Free spins: | Yes | | |
| Respins: | No | | |
| Scatter: | Moon | | |
| Wild: | Witch | | |
| Latest jackpot win: | €38,396.77 | | |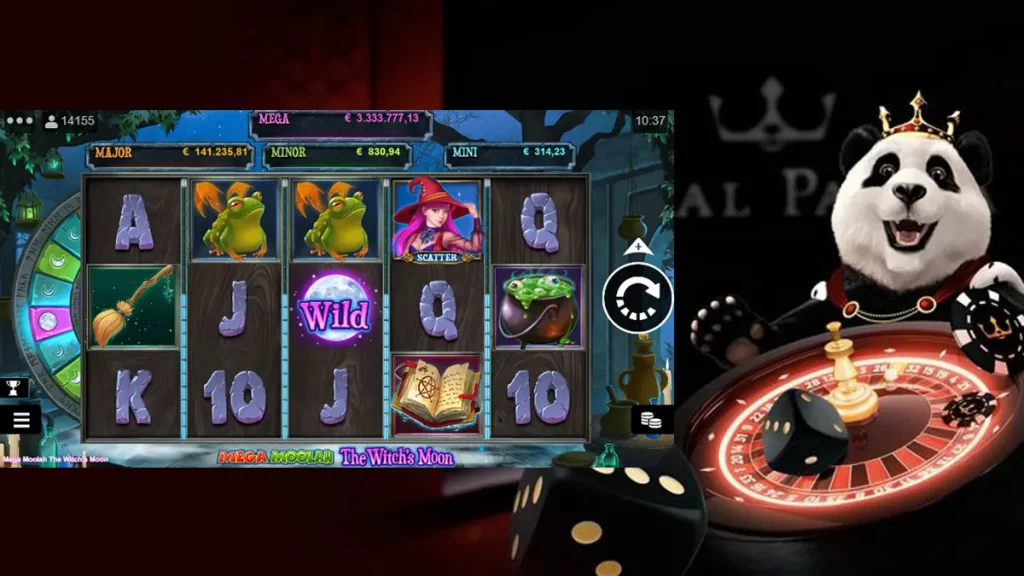 Theme
The Witch's Moon has quite a unique theming design. As the name suggests, the graphics consist of witches, cauldron, and all things sorcery-related. The slot is simple but cunningly enchanting.
The reels display witch accessories such as bubbling cauldrons and evil-looking frogs. To top it off, the game has spooky witch music playing in the background. It really completes the whole witch vibe.
The theme of this slot game might be the best thing about it. Players are usually attracted to this game purely because of the spooky yet enchanting music and composition.
How to Play
The Witch's Moon slot game is played on 5 reels, 3 rows, and 25 pay lines. You can win a standard payout by landing on either 3, 4, or 5 matching symbols/wilds. The reel starts from the extreme left.
Scatter wins are a special case since the symbols can appear anywhere on the reels. The betting range for this slot game is $0.25 up to $6.25 per spin. The highest win you can get from one spin is 1800x your stake.
Click on the coins icon located to the right of the reels. It'll open a panel where you can choose your betting range. You're given 7 recommended levels in this panel. It also displays your cash payout according to your bet size.
Special Features
Moon Wilds
In the Witch's Moon, the wild card is represented by the full moon. They substitute every other symbol to help complete the win combination. When this wild replaces any symbol, it automatically doubles the win. For example, if you land on any four regular symbols, your payout will be 60 times your bet.
Scatters
A pretty young witch represents a scatter in this Mega Moolah series. When you land on 3, 4, or 5 of these scatters, you're awarded 3x, 20x, or 100x your stake, respectively. It doesn't matter how many scatters you get; you'll only activate 25 free spins. If you reactivate these features, all your payouts will be subjected to a 3 multiplier boost.
4 Progressive Jackpots
Like any other slot game in the Mega Moolah series, there are 4 types of jackpots in the Witch's Moon.
The Mega Jackpot is worth around 1920x your stake. The remaining 3 jackpots, Mini Jackpot, Minor Jackpot, and Major Jackpot, don't give as rewarding payouts, but there is still some gain.
Bonus Rounds
This casino game offers a bonus round. It's activated when you land at least 3 scatters (represented by a witch). You might be wondering, what's special about this round?
The bonus round gives you a 3x boost to your payout. The 3x boost will last all through the duration of the round. That will increase your payout extensively. Bonus rounds can also be reactivated when you have free spins.
If a free spin and jackpot are activated simultaneously, the bonus round will be triggered first. The spin will be saved for next time. The real key to the bonus round is your scatters, which decide your multiplier boost.
Chances to Win Mega Moolah The Witch's Moon
Compared to other Mega Moolah, the Return to Player (RTP) is pretty low. You might get payouts frequently, but they won't be much. The RTP of the Witch's Moon is set at 88.12%. It is lower than the average casino game. Through a rough estimate, you get your payout at every second spin.
The only chance you have to win a massive payout is through the Mega Jackpot. The free spins and scatters aren't so generous regarding cash payouts. The low RTP is a given, though. It's how progressive games are designed.
The RTP isn't the only low thing. The volatility is also very low. You would land a win on half the spins. The only way to get a high payout would be to have a high luck rate.
The Witch's Moon Winners
The highest win yet in this Mega Moolah is around 14,675,496.69 CAD. The person who won this is unknown. There might be a few reasons why this player decided to keep their identity anonymous, but there's a rich person out there somewhere because of this game.
How Much Can You Win The Witch's Moon
The highest payout you can get in this casino game is through the 4 progressive jackpots. There are 4 progressive jackpots; Mini Jackpot, Minor Jackpot, Major Jackpot, and Mega Jackpot.
The Mini Jackpot's standard cash payout stands at $10.
The Minor Jackpot's standard cash payout stands at $100.
The Major Jackpot's standard cash payout stands at $10,000.
The Mega Jackpot's standard cash payout stands at $1M.
The highest you can win from 1 spin is 1800x your bet. That will apply when you win a free spin and have a 3x multiplier boost. If you're placing smaller bets this amount won't make you rich, but it's something!
Where Can You Play Mega Moolah The Witch's Moon?
Microgaming are one of the most popular casino software providers, and you can expect excellence in every category in each game they publish. Naturally, their games, including The Witch's Moon, are featured at a wide array of online casinos. We recommend playing The Witch's Moon at Royal Panda Casino – which also offers new players a welcome bonus of up to CA$1,000!
Our Thoughts
Besides a few theme differences, this slot game is barely different from the other Mega Moolah slot games. It offers lesser payouts than the other slot games in the Mega Moolah series.
In the end, it comes down to your luck. The highest payout isn't bad, but the average payout and RTP are pretty low for a casino game. If we're being honest, this slot game offers the bare minimum of what a casino player would want.
Many players would instead go for another Mega Moolah series because they have higher payouts for the same betting range. On the bright side, though, the graphics of this slot game are more entertaining and thrilling than other slot games. All in all, it's your judgment if you prefer this slot game or not.