How to Play Mega Moolah ♠️
If you are a fan of online slot games, there is a good chance that you may have already played this legendary slot game by Microgaming. If not- then you will definitely want to have a go at the ever-popular 5-reel and 25-payline Mega Moolah video slot game. This exciting online slot game boasts a progressive jackpot and guaranteed enjoyment as you adventure through the wild on an African safari. You might encounter a mighty lion, an elephant or a buffalo, and if you are lucky- three or more monkeys will come to grant you free spins. The more you choose to wager- the greater your odds will be at unlocking that much anticipated and randomly triggered Jackpot Bonus game.
A Step by Step Guide
Players that are new to the Mega Moolah slot machine game can gain experience and get familiar with the game by taking advantage of the free play feature. Although the game offers up to 25 paylines per spin; players have the freedom to choose how many paylines they wish to use on every spin and can also adjust the speed of the game. Once you have selected your coin or amount to bet and have selected your preferred amount of paylines; you are ready to hit play and start your game. You also have the option of selecting the 'Autoplay' feature which will enable a selected number of spins to be played automatically for you. With this feature players can choose the number of spins to be played as well as the time difference between each spin.
The Mega Moolah online slot game consists of a basic game as well as a progressive jackpot game, with both of these generating different amounts for potential winnings. The Jackpot Bonus game is of course where all of the big winnings and massive payouts can be made; but there is still the chance to reap some good winnings by playing the basic game. The basic game has some great offers such as the 15 free spins that players can receive when landing 3 or more scatter symbols anywhere along the 5 reels. The amount that a player wins during their free spin session is then tripled.
The second part of the Mega Moolah slot game is where all the fun is at- and that is with the progressive jackpot games. The Mega Moolah Jackpot Bonus game is the highest paying progressive jackpot game that Microgaming has to offer, which has allowed Mega Moolah to remain one of the most played and most popular online slot games to date. The Mega Moolah Jackpot Game is available in 4 different sizes which again increases your chances of landing one of these jackpots. Another great advantage of the Mega Moolah Jackpot Game is that you don't need to place big wagers in order to win big money; the progressive jackpot game can be randomly triggered even after betting only a small amount, which puts odds even more in your favour. The Jackpot Bonus game is where the real earning potential lies and is triggered at random points throughout the game.
The Jackpot Bonus game comes in 4 different sizes and these are as follows:
Mini – $10 winnings and is triggered many times every hour of the day.
Minor – $100 winnings and is triggered many times a day.
Major- $10,000 winnings and is triggered every few days.
Mega- $1,000,000 winnings and is triggered on rare occasions.
Mega Moolah Rules
The minimum coin size is $0.01.
The maximum coin size is $0.05.
There is a maximum bet of 125 coins (roughly 6.25 coins per spin).
The maximum payout amount is 15000 coins.
The Lion symbol acts as the Wild symbol and can be used in place of any of the other symbols and also generates a 2x multiplier to your win. The only symbol that it cannot replace is the scatter symbol.
The Monkey symbol acts as the Scatter symbol and landing 3 or more of them anywhere on the reels will provide you with 15 free spins. You will also receive a 3x multiplier on any win you land with your free spins bonus.
Payout will only be received for 1 winning combo at a time.
Players will automatically receive their winnings during the bonus game.
The Jackpot Bonus Game must be triggered before players can access the progressive jackpots.
The Jackpot Bonus game cannot be accessed during free spin rounds.
Mega Moolah Game Symbols Explained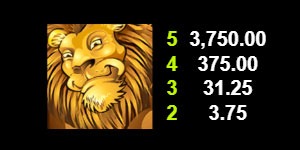 Lion Symbol
The lion acts as a wild multiplier allowing players to use this symbol as a substitute to complete winning combinations. The lion will also double your winnings on any of the combinations it completes.
2 Lion symbols result in 15 coins
3 Lion's- 125 coins
4 Lion's- 1500 coins
5 Lion's reach 15000 coins.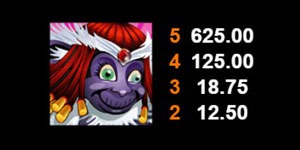 Monkey Symbol
The monkey acts as a scatter symbol and this means that if 3 or more monkeys show up anywhere on the 5 reels it generates a win offering you 15 free spins as well as a 3x multiplier.
2 Monkey symbols can offer players 50 coins
3 Monkey's- 75 coins
4 Monkey's- 500 coins
5 Monkey's can reach 2500 coins.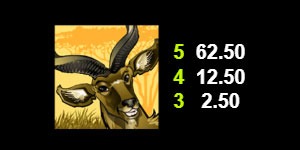 Kudu Symbol
3 Kudu's – 10 coins
4 Kudu's- 50 coins
5 Kudu's- 250 coins.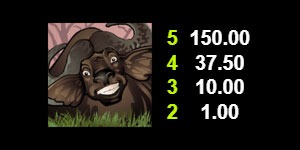 Buffalo Symbol
2 Buffalo's- 4 coins
3 Buffalo's- 40 coins
4 Buffalo's- 150 coins
5 Buffalo's- 600 coins.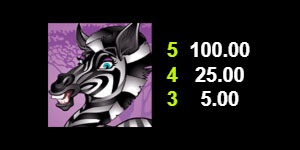 Zebra Symbol
3 Zebra's- 20 coins
4 Zebra's- 100 coins
5 Zebra's- 400 coins.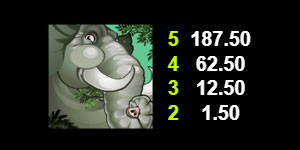 Elephant Symbol
2 Elephants- 6 coins
3 Elephant's- 50 coins
4 Elephant's- 250 coins
5 Elephant's- 750 coins.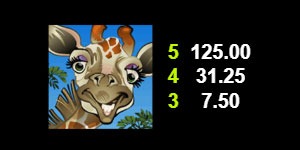 Giraffe Symbol
3 Giraffe's- 30 coins
4 Giraffe's- 125 coins
5 Giraffe's- 500 coins.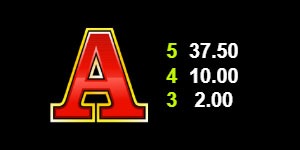 Ace Symbol
3 Ace's- 8 coins
4 Ace's- 40 coins
5 Ace's- 150 coins.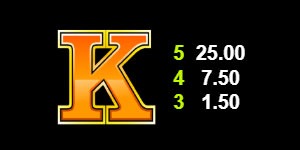 King Symbol
3 King's- 6 coins
4 King's- 30 coins
5 King's- 100 coins.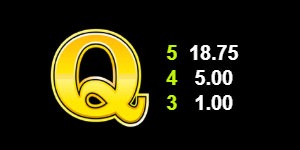 Queen Symbol
3 Queen's- 4 coins
4 Queen's- 20 coins
5 Queen's- 75 coins.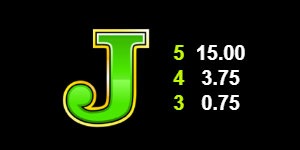 Jack Symbol
3 Jack's- 3 coins
4 Jack's- 15 coins
5 Jack's- 60 coins.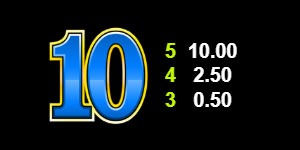 Ten Symbol
3 symbols- 2 coins
4 symbols- 10 coins
5 symbols- 40 coins.
Mega Moolah Variations
The creators at Microgaming didn't want to stop with just one incredible slot – and they have been providing new variations and connecting new slots to the progressive Mega Moolah jackpot. More and more titles have come out in the last few years with different themes and playthroughs. Learn more about the other variations of the Mega Moolah brand here and find the perfect slot for you.
Wrap Up
If you want to be the next big Mega Moolah Winner you need to know how to play. Sure, to win the million dollars, you only need to play, but to consistently come out a winner you should make sure you know all the rules and brush up on some tips for winning. It also helps to find some great Mega Moola free spins offers to give you a few extra chances to win on the house.